Abhyangam + PodiKizhi Combo Package
Ayurveda has a body refreshing massage with unique features, which is called Abhyangam. It will take some 45 mins to finish Abhyangam from head to toe . This full body massage therapy is very beneficial and definitely it works in the body and prevents degeneration and ceases the ageing process. This therapy needs more positions to massage and comparing to other regular massage therapy, Abhyangam is very special as it has seven positions and it treats the whole body. It assures new healthy physical changes.
Choorna Swedam (Podikizhi) is one of the most relaxing and refreshing massage that you can enjoy. Podikizhi is very good for relieving spasms and stiffness of muscles, lubrication the joints, strengthing the spinal muscles and relieving joint pain. Choorna Swedam (Podikizhi) is the first step in Ayurveda treatment. Podikizhi treatment is done after the luxurious Abhyangam .
The main benefits of Choorna Swedam (Podikizhi) are inflammations of spinal muscles and found to effective in certain low back aches, cervical spondylites and frozen shoulder, Arthritis, rheumatic fever etc.
Abhyangam + Shirodhara Combo Package
The process of Abhyangam is explained earlier
Shirodhara(shiro-dar-a) is a unique, blissful therapy that balances and stabilises the mind. To receive shirodhara, the person lies down upon a massage table with their eyes covered. Next, specially prepared warm ayurevdic oil is poured in a thin steady stream directly onto the forehead and sixth chakra. Shirodhara purifies the mind, alleviates anxiety, reduces headaches, and expands awareness. Shirodhara can be administered  on its own or as part of a panchakarma detoxification regime.
The oils used in shirodhara are specific to the dosha that needs balancing.
Abhyangam + Mukhalepam Combo Package
The process of Abhyangam is explained earlier
Mukhalepam is also called as a skin protection therapy in which the face is massaged with Rakthachandanam and Elaadi oil followed by Navara Rice Scrub. This Ayurvedic face pack contains various sorts of herbs, therapeutic plants, juices of plants, oils, ghee, decoction, fruits etc., dissimilar to the cosmetics facial in which chemicals are utilised. It is then made into a paste form that feeds & cleans the skin & gives the skin a delicate & clear look. Usually in Mukhalepam, after the Ayurvedic face pack is applied on the face, it is treated with steam.
Mukhalepam ayurvedic therapy is a best treatment for most of the skin care issues. It helps in detoxifying the skin and also improves the beauty of the skin. It is very viable in skin diseases like eczema, psoriasis, and it is also very useful in treating issues like sunburn.
Abhyangam + Nasyam Combo Package
The process of Abhyangam is explained earlier
Nasyam is meant for purification of the head region. The excess of bodily humors accumulated in the sinus, throat, nose or head is eliminated. Patient is made to lie down on his/her back on a wooden cot placed in a room devoid of breeze. Head is placed slightly down and legs higher. The body, especially head, neck and chest, should be massaged with oil and fomentation is given.
Abhyangam + NavaraTheipu Combo Package
The process of Abhyangam is explained earlier
Here, the rice used is the Navara Rice.  It is made into a powder and is applied all over body (excluding head and face) or on a specific part. It is useful to provide nourishment to to the skin and also helps in exfoliation of dead cells and this provides a glow to the skin,
Udwarthanam & Mukhalepam Combo Package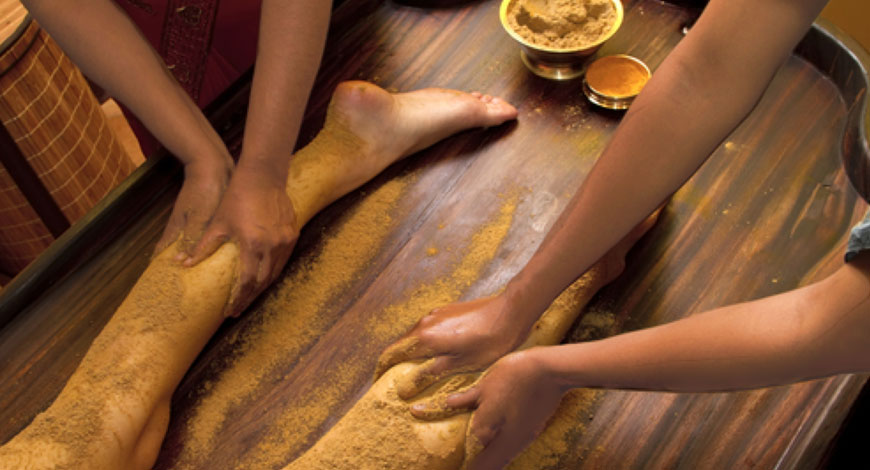 Udwarthanam is one of the most sought after Ayurvedic treatments for weight loss. It is a special deep tissue massage using herbal powders.
In this procedure, the body may be coated with herbal oils and then herbal powders called Choornams are rubbed forcibly on the body in the upward direction.  The massage techniques are performed in seven postures by applying suitable pressure so as to break down the fat under the skin. The herbal powder is applied and the massage is done for about 45 minutes. This is concluded  by steam and bath.
By generating heat through massage, this treatment melts the excess fat that is accumulated in the body. It improves the blood circulation, rejuvenates the body and improves skin texture. Certain skin diseases can be treated with Udwarthanam.
The process of Mukhalepam is explained earlier
All the above combinations are perfectly curated at PoornaAyur – An Ayurvedic Treatment/Wellness Centre located at Race Course, Coimbatore and Mahalingapuram, Pollachi
Enrich your health with authentic Kerala Ayurveda Combos at Rs.2018/- in the year end offer
for Bookings https://goo.gl/RjHovT or call us at 0422-4212142/7339549222